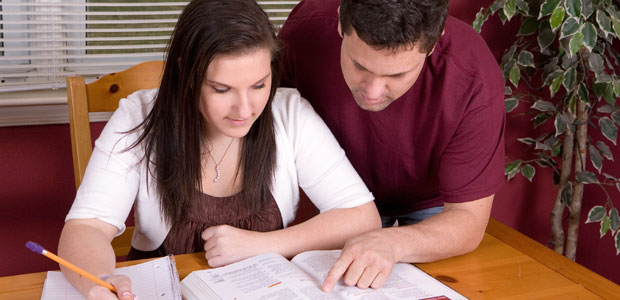 You help her with her homework. We'll prepare her for her college-entrance exams. 
THE POSTSECONDARY ADVANTAGE
Getting a college education will pay off for your son or daughter in higher lifetime earnings. Even when the job market is tight, and we hear how tough it is for recent college grads to find employment, these young people have a serious advantage over their high school classmates who didn't go on to postsecondary school. 
A 2002 Census Bureau study estimated that in 1999, the
average lifetime earnings of a Bachelor's degree holder
was $2.7 million (2009 dollars), 75 percent more than that
earned by high school graduates in 1999. 
Today, we find similar numbers — but since 1999, the
premium on college education has grown to 84 percent.
In other words, over a lifetime, a Bachelor's degree is worth
$2.8 million on average. 
-FROM THE COLLEGE PAYOFF: EDUCATION, OCCUPATIONS, LIFETIME EARNINGS BY ANTHONY CARNEVALE, STEPHEN J. ROSE, AND BAN CHEAH
ZAPS IMPROVES THE ODDS 
Attending a ZAPS seminar improves your student's odds of earning scholarship money or getting into the college of their choice. Our proven strategies help students achieve their highest personal scores on the ACT, PSAT, or SAT, no matter what their skill level.
For the test-phobic, getting familiar with the content, difficulty, style, directions, timing, and built-in traps can reduce anxiety. Simply being less tense and anxious can yield a score that reflects a student's true ability. ZAPS helps with that, too. 
For average-to-above-average students, the concentrated, strategy-intensive seminar can arm teens with resources that — when implemented — can make them shine. 
For naturally high scorers, learning effective test-taking tips and strategies can give them the edge they need to score at their peak.
Parents often let us know just how much ZAPS has helped their student. For example, a mother recently emailed us to say the following:
Just want to thank you for the great ACT workshop
my daughter took with you a few weeks ago.
She stated that it offered great strategy and time
management during the testing period.
As parents, we liked that it was one day, and not
a weekly ordeal, which I think stresses kids out.
My daughter took the test in October, which is
semi-early for her Junior year, and got a score of 30. 
We are thrilled!!! She is a great student, but that score
was beyond our expectations. 
Word spreads fast at our school. I have received 5
emails tonite from parents wanting to know what
prep course we used. I have passed your info along.
Thanks again! You made a big difference, we know,
and now having posted a good score, we are all
relieved and can relax a little.
Our daughter will take the test one more time at a later
date, but if this score is the best she does, we are very
proud of that." 
  -MARY, PARENT, MINNEAPOLIS, MN 
 LEARN about ZAPS ACT Seminars
 LEARN about ZAPS PSAT/SAT Seminars
SOME EFFORT REQUIRED
We're not offering a magic potion. Attending a ZAPS seminar will help, but to do their very best on the test, students need to practice what they learn in the seminar. Students who throw the materials under their pillows and hope osmosis will kick in are simply fooling themselves. Like anything worth accomplishing, some effort is required for students to see improvement in their scores.  
Great experience. Would recommend to all high schoolers.
Makes me want to study.
-AMY, SHAKOPEE H.S., MN 
INVEST IN YOUR CHILD'S FUTURE
ZAPS Learning Company can't promise you that your student will earn a scholarship by taking our course. What we can promise is that we'll give your teenager the same effective strategies that we've given to hundreds of thousands of satisfied high school students.
Invest in your child's future by helping him or her prepare for the ACT, PSAT, or SAT. Register your student for a ZAPS seminar today.
It is amazing how the strategies helped.
-SPENCER, SPIRIT LAKE, H.S., SPIRIT LAKE, IA
 ZAPS SCORE BOOSTERS
For even more help, ZAPS offers two effective study tools to boost your student's scores and increase their opportunities for success. 
ZAPS ACT-PRACTICE TEST
The online ZAPS ACT-Practice Test provides a full-length test that your student can take timed or untimed. 
I bought the ZAPS online practice test to help my grandson
get ready for the ACT. It has helped him feel confident
that he will improve his score.
  ~BELINDA, GRANDPARENT, MARY STAR OF THE SEA H.S., CA
 LEARN about the Online ZAPS ACT-Practice Test
 BUY the Online ZAPS ACT-Practice Test
ZAPS COLLEGE VOCABULARY CHALLENGE
If your student — or anyone in your family — wants to build vocabulary skills, ZAPS College Vocabulary Challenge is a great choice. Purchase this effective and fun app for use on smartphones, laptops, tablets, and other web-based devices.
The Challenge portion of the app uses questions formatted in the style of the Critical Reading section of the PSAT and SAT. But, regardless of which test students decide to take — ACT, PSAT, or SAT — building vocabulary skills will have a positive effect on their scores and will enhance their lives.
When you buy ZAPS College Vocabulary Challenge for your student or yourself, you give the gift of a skill with lifetime benefits. Even students who are already in college and adults well into their careers find this a helpful tool.
I've always been a little embarrassed by my limited vocabulary, 
especially when my wife or daughter tells me I've used the
wrong word. After using the ZAPS vocabulary app, I'm less
likely to make a mistake, and I feel a lot more confident. 
 -JOE, PARENT, CITY H.S., IA
 LEARN about the ZAPS College Vocabulary Challenge App
 BUY the Online App: ZAPS College Vocabulary Challenge
 BUY the iTunes App: ZAPS College Vocab Complete

 BUY the Android App: ZAPS College Vocab Complete